Date & Location:
Friday, November 16, 2007
Gleacher Center
Tickets Required
Keynote Speakers:
Howard Berke
Executive Chairman, Konarka Technologies


George Conrades
Executive Chairman, Akamai Technologies & Venture Partner, Polaris Ventures
Panels:
The New New Thing
Sourcing VC Deals
Partnering for Success
Avoiding Classic Startup Mistakes
Going Global with Your Idea
Effecting Social Change

Gleacher Center:
This years conference will be held at the University of Chicago's Gleacher Center, located in downtown Chicago.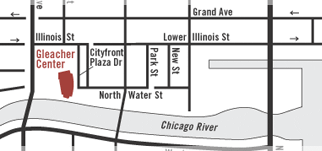 Address:
University of Chicago Graduate School of Business - Gleacher Center
450 North Cityfront Plaza Drive
Chicago, Illinois 60611 USA
312.464.8660
For directions and transportation information, please visit the Chicago GSB's Gleacher Center information page.

© 2007 Entrepreneurship, Venture Capital & Private Equity Group
Register Today:
Registration now open to students and alumni.
Conference Program:
A downloadable copy of our program will be online soon.